Behind the Lens: a new series of archive interviews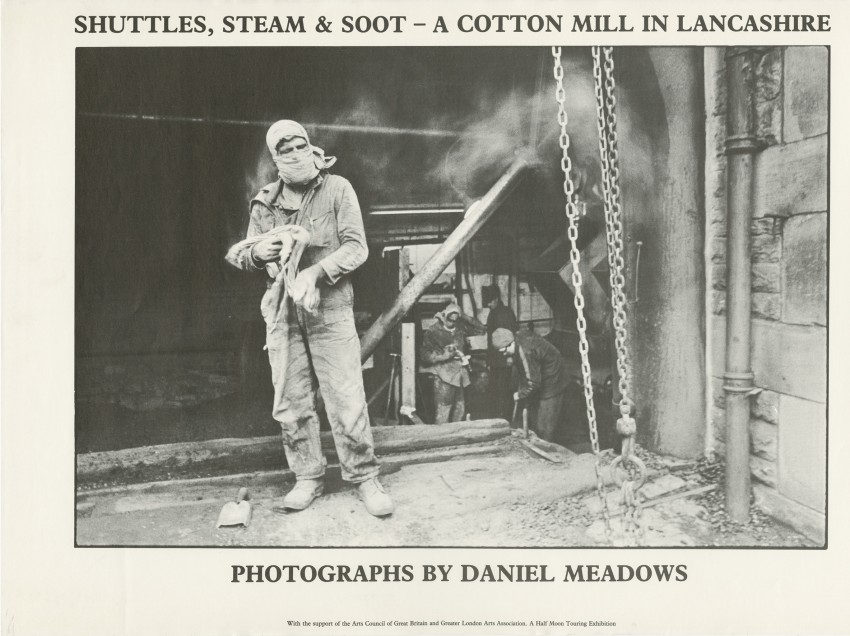 Behind the Lens 01. Daniel Meadows
We live in a society increasingly saturated by images, consumed by the omni-presence of the news cycle, presented in small snatches of text and photographs on our smart phone screens. In such circumstances it is hard to keep a critical distance, to separate false facts and appearances from the truth. It is more important than ever to return to the heritage of documentary photography, and to questions about the production and circulation of images (particularly on and by the Left) as a counter to these disturbing developments.
In that spirit, we are digging deeper into the archive, uncovering early developments in socially-engaged photography to inspire and spark debate. In this series of interviews, former contributors speak about their particular involvement: from producing issues of Camerawork magazine, to the experience of laminated touring exhibitions, and debates around the politics of documentary.
Daniel Meadows, and his exhibition 'Shuttles, Steam and Soot' which was shown at Half Moon Gallery in 1977, starts us off. The exhibition was described in the press release as an examination of the history of the weaving industry in Lancashire and the impact of mechanisation on the trade and its workers.
We asked Daniel about his process:
---
This project was born out of your residency in Pendle. What was the town like at that time, and what drew you to think about the history of the cotton industry there as a potentially interesting photographic project?
It was August 1975 when I moved to Nelson, Lancashire, and began working as photographer-in-residence to the Borough of Pendle. It was a two-year appointment. My two principal tasks were to photograph 600 buildings for Architectural Heritage Year, and to record the work of theatre-in-education company TheatreMobile. For the rest of the time I was free to respond to whatever caught my attention. My wages, though adequate, did not cover photographic materials, so I was obliged to seek freelance work. This meant that a good number of the photo-stories that I did in Lancashire were first published in Lancashire Life magazine.
The great joy of being photographer-in-residence was that I was able to live by my imagination; that is to say, I could imagine myself doing something and then go out and do it. And I began to meet others living in a similar way, people who knew that the work they were doing came from an old world that was rapidly dying, yet they imagined it alive. Their imaginings made them great storytellers and they fascinated me. Needless to say, the old world around us was one of huge cotton mills, many of them empty and awaiting development. But, in small pockets, that world was alive. And it was into those pockets that I went.
Interviews with workers formed a large part of the project, and your subjects' comments were reproduced for the viewer. How did you view talking to people, and doing what you described as 'serious investigation', as part of a documentary photography practice? Was this concern with 'investigation' and the language of journalism a feature of British documentary photography as supported by Half Moon at the time?
I have always used a tape recorder as well as my camera. In fact, my work has always been about encounters with strangers, appreciating another's circumstances and sharing that experience through publication and exhibition. The encounters in Pendle were different only in that they took place repeatedly and over quite a long period of time. More typically, though, they are quite short; but always long enough for the strangeness of those in front of the camera — and their strangeness to me behind it — to be (as I have often said) "slightly less than the secrets they once were."
All I can say about Half Moon and Camerawork is that when I met Ed Barber and Jenny Matthews (who curated the show) we had a meeting of minds. Their objectives were mine too.
The show then went on to be a laminated touring exhibition. Did you find that reception to the project changed around the country?
Sadly I have no idea about how the show was received by individual exhibition-goers (have any visitors' books survived?). What I do know, though, is that it was displayed in what, by any standards, is an incredible number of venues; sixteen in its first three years — including a showing in Essen, Germany. That's what I love about Camerawork: it got the work 'out there' and not just to the bigger arts venues. 'Shuttles, Steam & Soot' was seen in planning departments, education institutes, the foyers of regional theatres and in provincial museums too. Brilliant!
Interviewed by Frances Whorrall-Campbell.
See more of Daniel Meadows' work here .
---
Posted by Ruby Rees-Sheridan on 14th June 2019 at 12:00am